Kapok or known as Ceiba Pentandra consists of lignified organic fiber that can be used for numerous purposes. The use of kapok not only for stuffing like pillow, mattresses, or upholstery, but there is new potential use. Kapok filling can be used as technical textiles, oil absorbent, and medical fieldwork. If you are curious about this, here is the explanation.
Four Potential Use of Natural Kapok
The Use for Technical Textiles
Another potential of kapok is using it in the field of technical textiles. Not only have that, they also use it for yachts, boats furnishing insulating materials in refrigeration systems, removal of spilled oil from water surfaces, industrial wastewaters filtration, acoustic insulation, and strengthening components in polymer composites.
Since kapok is a thermal insulator, light, and does not cause allergies, it is used for upholstery in yachts, boats, and furniture. But the use of kapok can be combined with other materials like cellulosic fibers in the form of nonwovens. With this material, it enables good regulation of moisture and natural antibacterial protection without using any additional chemicals.
Not only have that, due to its outstanding quality of thermal insulating properties, but kapok can also be used as a material in smaller refrigerating systems. It is commonly used for gloves, sleeping bags, etc. As it provides great thermal insulation and does not cause allergies, the use of kapok to make clothing linings instead of synthetic materials.
The Use for Medical Fieldwork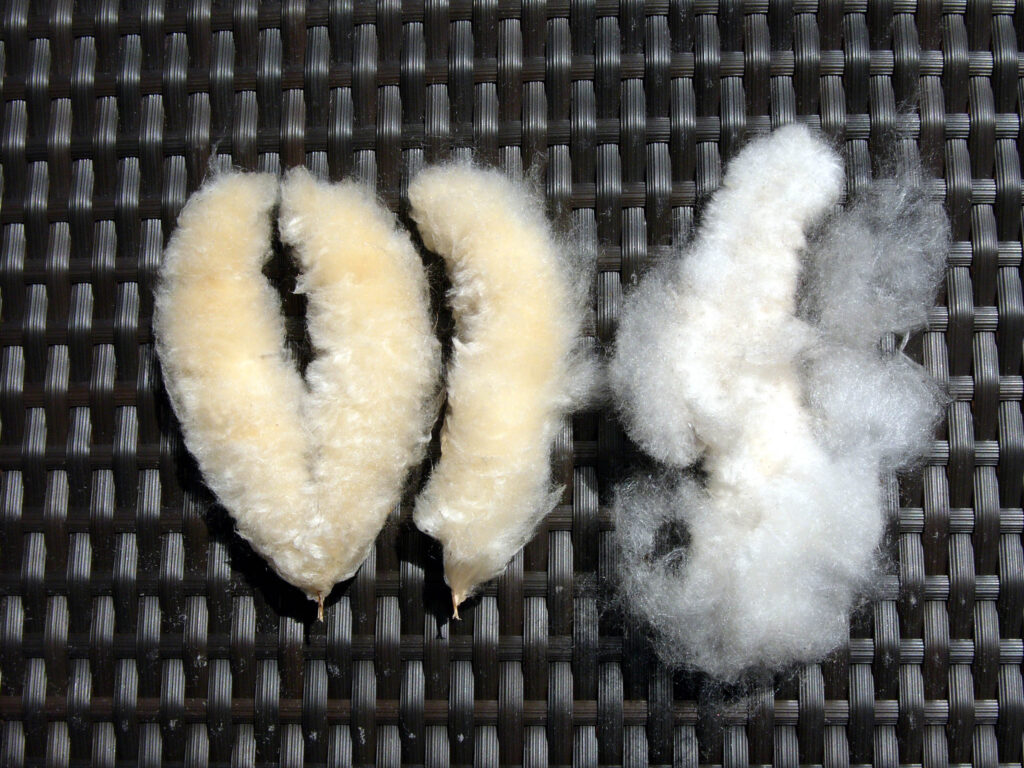 Kapok is from the Ceiba Pentandra tree that grows in the rainforest, including in Indonesia. This tree is usually grown about 15 meters high. All parts of the kapok tree can be used for various purposes, such as medical purposes. Flowers, leaves, and fruits are beneficial for medicinal properties.
The bark of this tree is used as emetic or vomitive and diuretic. It is useful to treat diarrhea and fever. Not only have that, but it also can be used for wounds and swollen fingers. Meanwhile, the infusion of the leaves is useful for cough, intestinal catarrh, and urethritis, hoarseness. Then, the tender plant leaves are managed for gonorrhea.
The use of Kapok for Oil Absorbent
Kapok filling is one of hollow fiber which has excellent oleophilic properties that makes them have the characteristic of absorbing, desorbing, and capillary imbibing of various oils. These oleophilic properties are ascribed to the bendable surface of fibers. Besides, the high content of acetyl groups in kapok can absorb the oil.
The Use of Kapok for Stuffing
Since the kapok has excellent thermal properties and silky sheen characteristics, this material is used for several purposes, including stuffing. Kapok is an ideal material for stuff like pillows, toys, and figures. Not only have that, but the water repellent kapok fiber is also useful for filler in jackets. The material that is lighter than cotton is one of the reasons why kapok is a great material for stuffing.
In conclusion, kapok also can be used for numerous purposes. Starting from the stuffing, oil absorbent, medical purposes, and technical textiles. But the most commonly used for kapok fiber filling is for stuffing, such as pillows, mattresses, and upholstery. In case you want to have this stuff, you can find the product at kapokfibersuppliers.com.