In these modern days, Kapok fiber is still one of the best natural products you can find out there. This particular product tends to be used as stuffing for pillows, mattresses, toys, or even your upholstery. It is popular due to its comfortable, buoyancy, and hypoallergenic treats. To not lose those aspects, here is how to take care of Kapok based on trusted Kapok fibre manufacturers.

Taking Care Of Kapok
Drying It Up Under The Sun Occasionally
The first thing to do is putting your Kapok stuffed pillow, mattress, or toys under the sun. It is meant to dry up the pillow for any water substance that piled up for a long time. It is one of the Kapoks treats that the fiber can absorb water and make it clumped together. If the Kapok pillow or mattress was used for a long time, then it could have deflated.
When this condition happens, then you can dry it up directly under the sun. Drying up Kapok will make the buoyancy and its fluffy features come back. It is also a great way to make your pillow free from bed bugs. In this case, you don't need to open the pillow and air it under the sun. You can dry it as a pillow or mattress.
So, when you need to dry it up? The recommendation is around once or twice a month. That is the normal amount to take care of your pillow or mattress. Kapok fibre manufacturers also recommend to do it when you feel the component (Kapok) starting to wad together or deflate. The hot sun ray will make your Kapok unfurl again.
Avoid Washing The Pillow Or Mattress Without Removing The Stuffing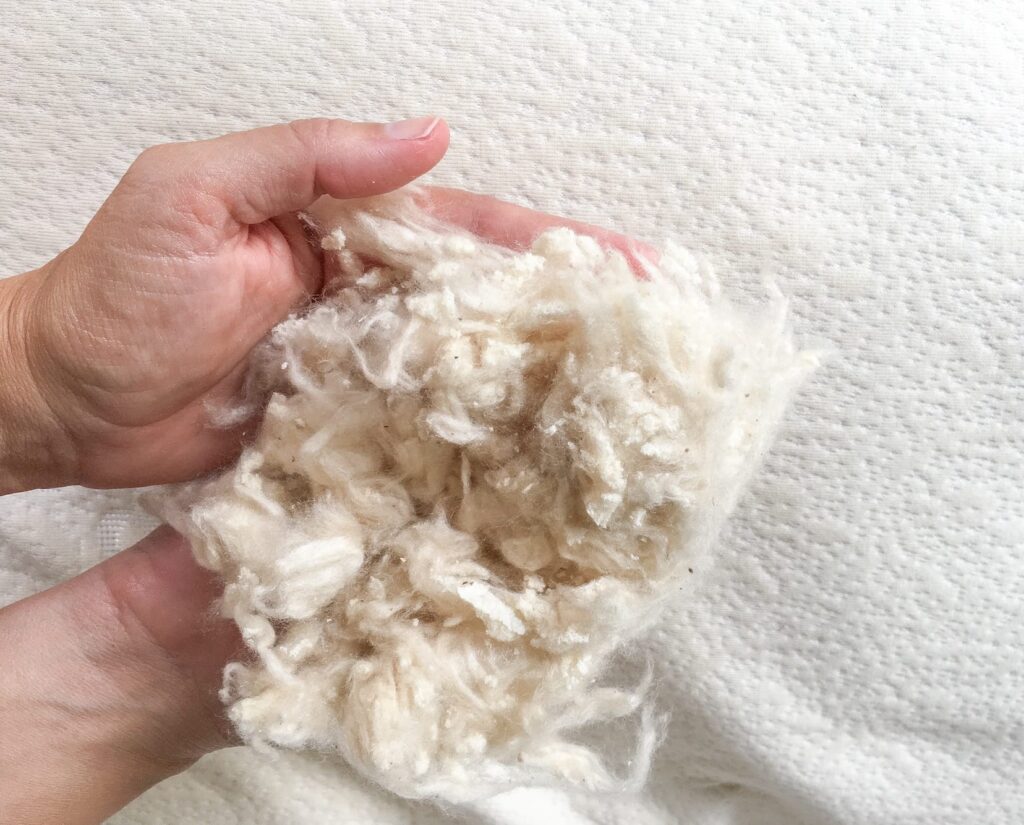 One thing for sure, you should never wash your pillow Kapok directly on your washing machine. It is worse if you haven't removed the Kapok filling. Why is it the problem? Because Kapok materials are very tiny. The harsh rotation of the washing machine will make Kapok come out of the cases, make a mess, and damage your machine.
It is recommended to wash only your pillow cover or bed sheets. If you wish to wash the pillow, then take out all the Kapok filling. After that, you can put it inside the cloth again. The other option is to sweep your pillowcase with a wet cloth. Then, dry the whole pillow under the sun.
Replace Kapok Regularly
Some of the pillows or some mattresses come with a zipper that means for stuffing replacement. If you like the sensation of using Kapok stuffing, then make sure you change it regularly. It is because Kapok will lose its buoyancy after years. The color also turns into yellow and darker after a long period of usage. You can buy Kapok filling through the internet.
When you consider Kapok as natural plant-based material, then it has its perks. In this case, you should do some things to keep the buoyancy, the comfort, and the characteristics of Kapok. If you got the high-quality Kapok fiber filling from Indonesia, then you can dry it in the sun, avoid washing it with water and replace the Kapok. You can buy Kapok from Kapokfibresuppliers.com.